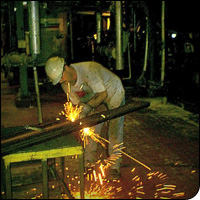 Careers
Rotary Service Company, (RSC), welcomes energetic competent individuals to our team.  Additionally, our people exemplify safe working environments.  Skill sets vary from basic to advanced.  Our training program, "Hands On" and provides you with additional skills. Welding, gouging, rigging, layout, and many other areas continue as part of our every day accomplishments for our crews.  We offer competitive careers based upon experience.  Crews travel extensively. If you can travel the country with us, have good mechanical skills, give us a call.
Finally RSC promotes our own people.  As a result our supervisors and sales personnel all started with us as laborers or millwrights. Raises & promotions based upon performance. We pay per diem and lodging on travel requiring overnight stays.  Mileage is paid for days spent traveling.  Many of our personnel must have a valid drivers license.
If you would like to become part of the RSC team, drop us a line.